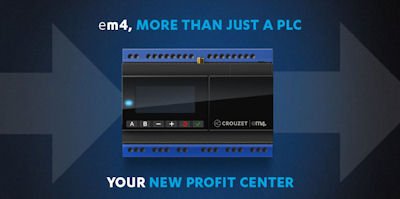 The em4 lab is where you can find everything you need to automate your application:
•  em4 soft, the most intuitive PLC software on the market
•  em4 remote access platform: "em4 web" and "em4 app" to remotely control your em4 from a PC or a mobile device
•  Our partners community, with products, tools, and also specific application examples to support your business development and reduce your time to market.
Crouzet Automation has partnered with the best products and service providers, to help you unleash your creativity and reinvent your business.
em4 lab, your turn to create!
.
Enquiry Form: http://www.epreston.co.uk/enquiries.php
Home Page: http://www.epreston.co.uk/epblog/