7 new Chronos 2 Timers, 2 new Level Control Relays and 2 new Phase Control Relays are now available in a more compact DIN Rail package ideal for modular use
Crouzet Control, a brand of Custom Sensors & Technologies (CST), is pleased to announce the availability of 11 redesigned Chronos 2 Timers and Control Relays now available in an improved DIN rail modular housing with the same profile as the Crouzet C-lynx product family.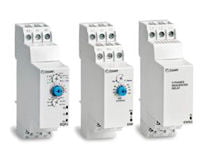 The 7 new 22.5 mm DIN Rail mounted Chronos 2 Timers (RA2R1, RQR1, RQR6, RU2R1 RU2R3, RU2R4 & RX2R1) replace timers previously offered in a 22.5 mm wide industrial housing. The new 22.5mm DIN rail mounted housing is also similar to the new 17.5 mm Chronos 2 Timers featuring the same terminal block position for perfect panel alignment. The new 22.5 mm timers also feature 2 SPDT relays rated at 8 A / 250 VAC and are just 8 mm higher than the 17.5 mm version with one output relay. New Chronos 2 timers have the same rated supply voltage and electrical specifications as previous industrial housing versions.
ENR and ENRM Level Control Relays have also been redesigned in a new 22.5 mm DIN Rail housing replacing 22.5 mm wide industrial models. A new universal supply voltage of 24 to 240 VAC VDC allows them to replace 8 existing part numbers with similar or improved features per model.
The new 17.5 mm MWS Phase Control Relay featuring an 8 A output rating replaces both the 17.5 mm MWS and 22.5 mm EWS series. The redesigned 22.5 mm EWS2 replaces the existing EWS2 featuring a more compact housing allowing modular installation.
All new Chronos 2 Timers and Control Relays are C-UL-US Listed, CE certified to the IEC Low Voltage Directive and compliant with the RoHS Directive.
.
Enquiry Form: http://www.epreston.co.uk/enquiries.php
Home Page: http://www.epreston.co.uk/epblog/