CRYDOM'S WORLD CLASS SOLID STATE SWITCHING TECHNOLOGY IS NOW AVAILABLE IN THE SOLICON DRC SERIES OF SOLID STATE CONTACTORS WHICH OFFERS PERFORMANCE LEVELS NEVER REACHED BEFORE BY ANY CONTACTOR
Crydom is pleased to announce the new SOLICON DRC Series of AC Output Solid State Contactors. SOLICON solid state contactors are the most innovative compact DIN Rail Mounted, IEC standard based contactors in the market and combine all advantages of a solid state design with the functionality and simplicity of use of an electromechanical contactor.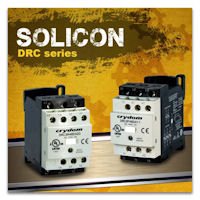 SOLICON DRC Series solid state contactors are the only contactors for Motor Control in the market with:
– Maximum switching frequency of 9000 cycles/hour
– Embedded auxiliary contacts (Normally open and Normally closed)
– 100KA Short Circuit Current Rating
– The most frequently used AC and DC input control voltage configurations available (24VAC/DC, 120VAC, 230VAC)
These features make the SOLICON DRC Series unique in the market, beating similarly rated competitive products on each front with a broader working temperature range (-30ºC to +80ºC), better resistance to surge current (750 Amps), higher resistance to short circuit (2560 A2S), smaller size (height and depth) and greater life span (50 Million cycles).
All these premium features are included in both available SOLICON models:
– DRC3P, Solid State Contactor
– DRC3R, Reversing Solid State Contactor
Both models are rated up to 5HP @ 480VAC
The DRC3P is available in either instantaneous turn-on (typically used for Motor Control) or zero-crossing turn-on (more often used with resistive loads). Both are available with either 2 or 3 controlled legs.
The DRC3R reversing contactor also includes a control interlock feature that allows only Off, Forward and Reverse operation in a safe mode, while providing relevant cost reduction and high space saving.
Available with 2 operating voltage options (400 VAC and 480 VAC), 5 HP motor rated (except the DRC3P contactor with 3 controlled legs which is rated @ 3 HP) and including an LED input status indicator, the DRC3 can be used in combination with the most frequently used overload relays and thermal magnetic circuit breakers (Schneider Electric's LRD and GV2) thanks to their full mechanical and electric compatibility.
Crydom's SOLICON DRC Series contactors are C-UL-US Listed and compliant to IEC 60947-4-2 requirements. They are also CE certified to the IEC Low Voltage Directive and compliant to the IEC EMC and RoHS Directive.
.
Enquiry Form: http://www.epreston.co.uk/enquiries.php
Home Page: http://www.epreston.co.uk/epblog/