27 CKRB models are now available offering optimized AC input control options for use in heating, lighting, motion and power control AC applications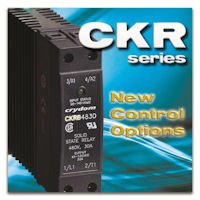 Crydom, a brand of Custom Sensors & Technologies (CST), is pleased to announce the availability of 27 new models added to the popular CKR series of AC output DIN rail mount Solid State Relays.
The CKRB models with integral heat sink rated at 10, 20 or 30 amps rms output at 25°C from 24 to 660 VAC, offer an optimized input control range of 90 to 140 VAC @ 50/60 Hz. Furthermore, previously existing CKRA models are now rated at 110 to 280 VAC input, while CKRD models complement the series rated at 4 to 32 VDC input.
The CKR family of 22.5 mm DIN rail mounted Solid State Relays offers the latest in solid state switching including zero voltage for resistive loads and instantaneous turn on for phase control or motor switching. UL, CSA and VDE approved, the CKR series is RoHS compliant and CE certified.
.
Enquiry Form: http://www.epreston.co.uk/enquiries.php
Home Page: http://www.epreston.co.uk/epblog/