This range substitutes the existing range and features improvements including:
• Added robustness
• Optimization of the electronic design and components update
• The new range remains with an 8 A rated output current
• Surge resistance level: 2 KV (twice the minimum imposed by the standard)
• A new and improved mechanical design to align to the Crouzet Control existing C-Lynx Control relays range
• Product quality and reliability improvements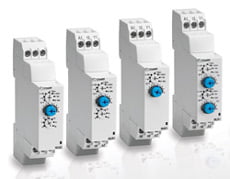 Features of the Chronos 2 timers
• Available in mono- or multifunction versions, to meet the specific needs of each application.
• A timing range of up to 100 hrs to cope with prolonged processing operations.
• A range of power supplies from 12 to 240 V in one unit for optimised stocks.
• Recognised quality and reliability ensures the correct operation of equipment.
These timers are available in 3 casings:
• DIN rail modular casing (Width: 17.5 mm)
• DIN rail industrial casing (Width: 22.5 mm)
• Plug-in industrial casing (Width: 35 mm).
.
Enquiry Form: http://www.epreston.co.uk/enquiries.php
Home Page: http://www.epreston.co.uk/epblog/