Parlex is a leader in technology & process development in polymer thick film circuits and assemblies. We offer a full range of capability including circuit design & engineering, design for manufacturing, circuit fabrication, die-cutting, and surface mount technology.  Custom circuit are developed based on proprietary polymer thick film technology and the expert formulation of inks and the selection of dielectric materials. We provide unique circuit and sensor designs as an integral part of our customers' advanced system products. Parlex is in the forefront of circuit and sensor product development that take advantage of our silver/silver chloride ink technology and medical hydrogels expertise.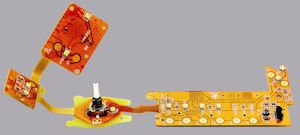 Our flexible printed circuit capabilities includes a wide range of design choices including line spacing, materials, surface finishes and panel sizes.  Our broad ranging experience in laminated flexible flat cable provides superior reliability solutions in dynamic flex and service loop applications. The Parlex custom engineering capability includes unique solutions incorporating laminated flat cables, printed circuit boards and connectors, flexible printed circuits and EMI/RFI shielding.
Johnson Electric has introduced the Parlex Secure-Flex™ product as an innovative technology to increase security and  provide the highest protection against intrusion and tampering of critical areas within payment terminals.  Parlex Secure-Flex can be customized for any payment terminal, to protect the printed circuit board, smart card connector and keypads from tampering and data theft.  Secure-Flex is the Point of Sale industry's only technology to offer protection against peeling, drilling and piercing intrusion.  Parlex Secure-Flex employs a unique breakable conductor technology, which disables the payment terminal if intrusion is attempted.  The increased level of security provided by Secure-Flex exceeds industry standards including PCI PTS and Union Pay. Secure-Flex technology also allows the option to deploy random security circuit patterns as an additional barrier to potential intruders.
The EMI-Flex product  is  an innovative electromagnetic shielding technology.  This technology improves the electromagnetic interference (EMI) and electromagnetic compatibility (EMC) characteristics of flexible circuits and laminated cables used in critical applications such as are found in the medical point of care and defense industries.  The Parlex EMI-Flex technology applies a highly conductive and flexible coating directly to the flex circuit for 360o shielding.  A precision production process allows custom shielding and impedance solutions to be designed and modified rapidly. Parlex EMI-Flex is ideal for applications requiring high EMI suppression and high EMC performance in conformable, compact, and lightweight designs.  Parlex EMI-Flex deployed early in the design cycle can avoid costly redesign due to EMI/EMC problems being discovered in product qualification tests.  The EMI-Flex technology provides cost effective shielding without bulky mechanical components.
.
Enquiry Form: http://www.epreston.co.uk/enquiries.php
Home Page: http://www.epreston.co.uk/epblog/