With the new UMT-H, SCHURTER is expanding its already extensive offering of SMD fuses. The letter "H" in the product name stands for the high breaking capacity of 1500 A. This
high level makes the time-lag fuse ideal for applications with large short-circuit currents. Initially having six rated currents from 160 mA to 2 A, and having rated voltages up to 277 VAC and 250 VDC, this is truly an all-purpose component. These features and more make the square-shaped UMT-H a compact alternative to cylindrical fuses.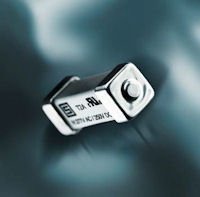 If all electrical specifications are equal, the UMT-H offers several advantages compared to cylindrical fuses, especially during assembly. For example, the square design prevents devices from rolling away during placement or during reflow soldering. Due to the position of the device markings, key information about the fuse can be seen immediately. In addition, the UMT-H from SCHURTER, with dimensions of 5.3 x 16 mm, is somewhat more compact than traditional cylindrical fuses in the 5 x 20 mm format.
Besides a wide range of applications in power circuits and sensors, the UMT-H is particularly well suited for the primary protection of power supply units. A further application area is in industrial electronics. The high breaking capacity of 1500 A and the spacing between the end caps of >10 mm also make these devices useful in applications that involve explosion protection (IEC 60079-11). Further, with a rated voltage up to 277 VAC along with cURus approval, these fuses are ideally suited for lighting applications in the US market.
Features and benefits:
– High rated voltages up to 277 VAC / 250 VDC
– High breaking capacity (H) of 1500 A at rated voltage
– Initially six rated currents from 160 mA to 2 A (others will follow)
– Time-lag (T) characteristics according to UL 248-14
– Compact, square design
– No rolling away during PCB assembly and soldering
– Safe interruption at line voltage
– Halogen-free and RoHS-compliant
Applications:
– Primary protection on SMD PCBs
– Industrial electronics
– Sensors
– Power supplies
– Explosion protection (IEC 60079-11)
– Lighting
.
Enquiry Form: http://www.epreston.co.uk/enquiries.php
Home Page: http://www.epreston.co.uk/epblog/