Given the high levels of integration in electronic systems, the demand for electrical components for use in higher temperature environments is continually increasing. This is where the new C22F appliance inlet and filter fills a gap. The first product of its type on the market performs exceptionally well in applications with higher ambient temperatures.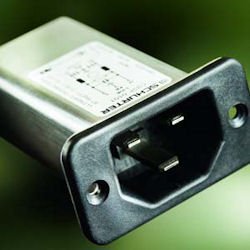 The new C22F filter series combines an IEC C22 high temperature appliance connector with a high quality power-line filter. The combined inlet and filter are especially suited for use in applications with nominal currents up to 16A at 75°C ambient and 20A at 65°C ambient. The unique design provides higher temperature ratings over comparable filtered inlets, while maintaining a similar compact size.
The combination power entry module integrates the EMC filter directly at the line input, providing an optimal effect on electromagnetic compatibility. The broad metal flange features a large amount of contact area, which further optimizes filtering and shielding effects. Wiring is done using quick-connect or solder terminals.
The standard C20F and new C22F series are designed for operating currents up to 16A at 250 VAC according to IEC standards and 20A at 125/250 VAC according to UL standards. They are ENEC and cURus approved. The two series are available in standard and medical versions suitable for applications according to IEC 60950, and medical applications according to IEC 60601-1. Such applications include power distribution units, servers, medical heating appliances and imaging systems.
– For high ambient temperatures
– Nominal current: up to 16A (ENEC/UL/CSA) at 75°C and 20A (UL/CSA) at 65°C ambient temperatures
– Version available with extra large X capacitor of 330 nF
– Filters available in standard and medical versions
.
Enquiry Form: http://www.epreston.co.uk/enquiries.php
Home Page: http://www.epreston.co.uk/epblog/