Honeywell's SMART Position Sensors are some of the most durable, adaptable, and lightweight absolute position sensors available in the industry, enabling highly accurate motion control and improving operation efficiency and safety.
Why is the SMART Position Sensor smart? SMART means that this is a sensor that can essentially think for itself. With the SMART position technology, Honeywell has utilized MR (magnetoresistive) technology through the ASIC (Application-Specific Integrated Circuit) at a level never before accomplished. The rotary configuration joins Honeywell's SMART Position Sensor family of proven linear and arc configurations.
The SMART Position Sensor, Rotary Configuration, is a non-contacting sensing solution for absolute position sensing with enhanced accuracy. It senses the position of a magnet relative to the sensor in a range of 0º to 360º.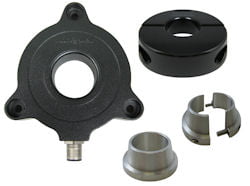 Honeywell uses a patented combination of an ASIC and an array of MR sensors to accurately and reliably determine the position of a magnet collar attached to a rotating object so that the object's position can be determined or controlled. The output and the MR sensor sequence determine the nearest pair of MR sensors to the center of the magnet location. The output of these two MR sensors is then used to determine the position of the magnet between them.
The SMART Position Sensor, Rotary Configuration, fits on a 25,4 mm [1 in] shaft. A mounting tool fixture (purchased separately) provides repeatable installation.
Value Propositions
*  Non-contact design: Eliminates mechanical failure mechanisms, reducing wear, which improves reliability and durability, and minimizes downtime
*  Combined patented MR sensor and ASIC technology provides absolute position sensing:
   – Helps OEMs reduce warranty costs because they don't have to replace worn or broken component parts
   – Helps end-users reduce downtime due to fewer calibration requirements
*  No internal moving parts: Automotive-grade potting makes the sensor more resistant to vibration, shock, and extreme temperatures, improving reliability
*  Repeatable output: Occurs within a 3,0 mm ±2,0 mm [0.118 in ±0.079 in] air gap between the sensor and magnet collar, expanding application opportunities
*  High accuracy: Measures values down to 0.01º; better accuracy can provide better application system accuracy
*  IP67 and IP69K sealing: Allows for use in harsh environments such as dust, immersion up to 1 m [39.37 in] of water for 30 minutes, and high pressure water sprays
*  High shock and vibration resistance: Allows for use in a wide variety of tough applications
Features and Benefits
*  Minimal signal error: Up to 2,50 mm [0.10 in] of radial error, simplifying design-in
*  RoHS-compliant: Materials meet Directive 2002/95/EC
.
Enquiry Form: http://www.epreston.co.uk/enquiries.php
Home Page: http://www.epreston.co.uk/epblog/