Schurter expands on its standard range of V-Lock power cords to include two types designed to ensure patient safety in critical medical and dental applications. The plug end of the cordset is stamped with a green dot, indicating that it meets the rigors of UL 817 testing. The solid pin construction and extra-safe wiring are visible through the plug's transparent material.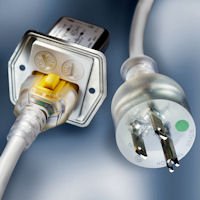 The V-Lock system is an already proven design for safe and reliable power connections, protecting against accidental disconnection of the power cord from the equipment. The cord connector has a lever that latches into a notched power inlet. It is removed from the inlet when the lever is depressed and the catch mechanism released. The make-first and break-last design of the ground contact is inherent to itssafe design.
The detachable hospital grade power cords are offered with EN/IEC 60320 C13 and C19, 13 A and 15 A respectively, cord connectors on the equipment end, and NEMA 5-15 on the plug end. The power cord cable is white and measures 10 feet, or 3 meters, in length. The new power cords are compatible with a host of SCHURTER C14 and C20 style appliance couplers and power entry modules, including the most popular types used in medical applications.
US Power supply cord Hospital Grade white with C13 connector, 13 A: 6051.2121
US Power supply cord Hospital Grade white with C19 connector, 15 A: 6051.2131
Analysis and laboratory equipment, telecom and IT equipment, industrial robots, power outlet strips and equipment for audio and stage lighting are other typical applications where a pull-out protection with VLock IEC appliance couplers is suitable.
.
Enquiry Form: http://www.epreston.co.uk/enquiries.php
Home Page: http://www.epreston.co.uk/epblog/