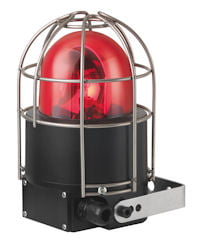 New compact beacon family with impressive features
In recent years WERMA has continuously improved the range of Ex products on offer.  The latest addition is a completely new family of compact beacons.  The new 729 series offers permanent, flashing and rotating LED beacons, additionally available with the enhanced EVS flash version and also the 728 series with its classic xenon flash and finally the 785 with a mechanical rotating mirror beacon. Each of the new Beacons is designed and manufactured to the highest standards. Offering several innovative design solutions, the new range is now offered with a universal mounting bracket for ease of installation.
 
Increasing focus on explosion protection
The chemical and petrochemical industries as well as the mining have long been acutely sensitive to explosion risks, in recent times these dangers and risks have also become more widespread in the food and beverage, metalworking and woodworking industries where in particular explosion risk from airborne dust occurs.
Reliable signalling in gas, dust and low temperature environments
WERMA has been developing products with combined approval for use in both gas and dust applications for many years.  The new ex-proof beacon series 729, 728 and 785 are also approved for use in zones 1 and 21.  By ensuring effective explosion protection even at extreme temperatures down to as low as -50°C, the application possibilities with the new beacons has been significantly increased.
.
Enquiry Form: http://www.epreston.co.uk/enquiries.php
Home Page: http://www.epreston.co.uk/epblog/