Crydom's proprietary thermal management technology and proven Solid State Relay expertise are now combined with advanced uP based timing in the new "SeriesOne DR" Timer line offering models with exceptional Solid State output ratings of either 6 amp AC and DC and 8 different precision timing functions with 18 variations in a compact 11mm wide DIN Rail mounted package designed for the direct control of a wide variety of resistive and inductive loads.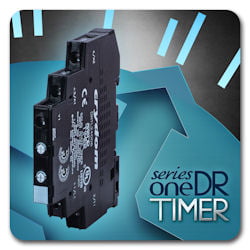 Crydom's renowned Solid State Relay technology is now available combined with 8 different Microprocessor based timing functions including a total of 18 possible timing variations. Ideal for use in control panels for direct control of contactors, solenoids, motors, heaters, lights, etc. The SeriesOne DR Timer series is available with either 6 amp/24 to 280 VAC output rating or 6 amp/1 to 60 VDC output rating, both at 40°C ambient temperature…. ratings well in excess of most Solid State Output Timers in the market today, therefore allowing direct control of many loads thus eliminating the need for interfacing power relays often required for use with lower power timers.
Available timing functions include "A" & "At" delay on make, "B" single shot, "C" delay on break, "H" & "Ht" interval, "L" & "Li" repeat cycle, and "U" multifunction that includes A, At, Ac, B, Bw, C, D, Di, H, and Ht functions. Basic timing function selection is user settable via screw slot rotary switches on the side of the SeriesOne DR Timers, while unit and fine timing adjustments are made on the front panel of the Timers. This arrangement provides easy access to Technicians for simple timing adjustments but significantly reduces accidental changes to the basic function.
Control for the SeriesOne DR Timers, depending on model, is 12 to 24 VAC/DC for all models, with options of either 90 to 140 VAC or 180 to 240 VAC for AC outputs only. All Crydom SeriesOne DR Timers are UL listed and cUL recognized, UL Motor Control rated, RoHS and China RoHS compliant, and CE certified to the Low Voltage and EMC Directives.
.
Enquiry Form: http://www.epreston.co.uk/enquiries.php
Home Page: http://www.epreston.co.uk/epblog/