When safety is paramount and required to conform to increasing amounts of new legislation, Finder's 7S Series forcibly guided contact relays offer a competitively priced and compact solution for designers and engineers who require confirmation of the functional integrity of critical circuitry.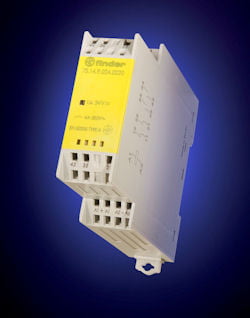 Class A forcibly guided contacts rated at 6A, 250VAC and conforming to EN50205 requirements, make the 7S Series suitable for many safety related applications.
The screwless terminals allow for quick, vibration-resistant connections, and the availability of 2, 4 and 6 pole versions makes the relays suitable for a wide range of uses in machine and plant control systems and energy generation, as well as water supply and treatment. Utilizing materials that comply with UNI 11170-3 for fire and smoke characteristics, and meeting the requirements of EN 61373 and EN50155 for mechanical and climatic characteristics also ensure they are suitable for railway applications.
With an operating voltage range spanning 0.7 to 1.25 of nominal, Finder's new 7S Series tolerates a wide supply variation.
Standard gold-plated or notched crown contacts provide high reliability switching, with a minimum load rating of 60mW.
Meeting the requirements of EN 13849-1 for functional reliability in machines and plant engineering, the 7S Series relays are housed in compact 22.5mm rail mounting enclosures equipped with quick-connect cage clamp terminals and LED coil status indication.
.
Enquiry Form: http://www.epreston.co.uk/enquiries.php
Home Page: http://www.epreston.co.uk/epblog/