Crouzet Limited has added to its comprehensive range of DIN rail mounted timers with the addition of its new 'essential' range.
Featuring CE approval, the new EMER8, EMAR7 and EMAR9 timers compliment the popular MUR1 unit and come with 1 x 5 A changeover, relay output and feature a timing range of 0.1 seconds to 20 hours.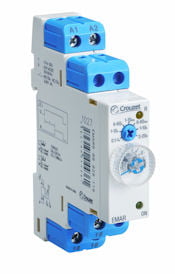 The single function (on delay) EMAR7 comes as 240VAC whilst the EMAR9 is 24VAC/DC.  The multifunction EMER8 timer is 12 to 240VDC and 24 to 240VAC and features a wide range of functions including:
A – On delay
At – On delay with memory
B – Timing on impulse (One shot)
C – True delay off
H- Timing on energisation
Ht – Delay on energisation with memory
Di  & D – Symmetrical flashing
W – Timing on impulse (One shot)
Pe – Impulse counter (On delay)
Specifically aimed at volume users of DIN rail mounted timers, all 3 products, EMER8, EMAR7 and EMAR9 are available in single packs (with a minimum quantity of 30 pieces) or alternatively bulk packs of 60 units provide even greater economies of scale.
The timers are ideal for a wide range of applications including lighting control, HVAC, industrial machinery and process control.
Detailed datasheets on all 3 timers can be found by visiting  www.crouzet.com
.
Enquiry Form: http://www.epreston.co.uk/enquiries.php
Home Page: http://www.epreston.co.uk/epblog/