Schurter Presents the New Wire Harness Service for its IEC connector and Filter Products
Schurter expands the product service for its connector families with a wire harness service offering. The large Schurter product assortment of IEC connectors and filter products can now be ordered together with a complete interconnection solution according to customer specific requirements through Schurters's website.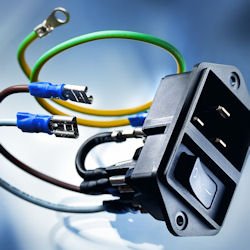 Schurter delivers custom fit wire harness and cables with its components. The wire harness service includes several types of ready to install wires, cables or wire harnesses with custom specific end terminal connections. The Schurter products such as IEC 320 connectors and filter products with quick connect, solder or screw on terminals can be assembled with above custom specific interconnection solutions. Products which are already available with integrated wire connections can be furnished with custom specific wire lengths and cable end terminals. Initial product samples will be assembled and provided for customer approval. Accordingly smaller and larger quantities can be manufactured and delivered. The wire harness service for other products such as fuseholders, voltage selectors, and switches will be expanded in the near future.
Further details about Schurter's wire harness options can be found on our website. The inquiry form on the website captures your wire harness project details and will be submitted directly to Schurter.
Technical Features:
– Fitting IEC 320 connectors and filter products with quick connect, solder or screw on terminals
– Cables AWG18, AWG16, AWG14 UL3266
– Cable colour brown, black, bright blue, yellow-green according to standard requirements
– Cable end terminals: quick connect, solder, screw on terminals, stripped or semi stripped wire
– Custom specific end terminals
.
Enquiry Form: http://www.epreston.co.uk/enquiries.php
Home Page: http://www.epreston.co.uk/epblog/