The Schaffner Group has extended its product portfolio of IEC inlet filters to include the power cord range IL13 with integrated locking system.
Using an easy-to-operate locking button, the IEC Lock snaps into the IEC mains socket and can be easily unlocked by employing slight pressure to the operating button. This eliminates the effort to mount retaining clips to avoid accidental disconnection of the power cord.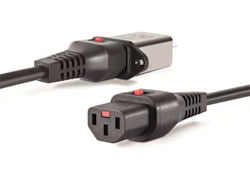 The reliability of electronic devices that are exposd to vibration like in mobile applications can thus be increased. The IL13 is also suitable for use with all equipment requiring secure mains connections, i.e. in the fields of IT, medical, laboratory or communications technology.
The power cord with the patented IEC Lock System does not require any modifications to existing IEC sockets. It can be used with any Schaffner IEC inlet filter or IEC C14 inlet according to IEC 60320 up to 10A.
The cord is supplied in black with a length of 2m as standard. The red marking of the locking button sets the IL13 unmistakably apart from conventional power cords.
On the line side the cord can be supplied with different plugs for international use. Of course the IL13 complies with RoHS and REACH requirements and is available everywhere via the worldwide Schaffner distribution and sales network.
.
Enquiry Form: http://www.epreston.co.uk/enquiries.php
Home Page: http://www.epreston.co.uk/epblog/