Honeywell Z Series standard subminiatures are designed for repeatability and enhanced product life. The MICRO SWITCH™ Z Series combines small size and light weight with ample electrical capacity, low cost, and enhanced life. The MICRO SWITCH™ Z Series consists of six product families with unique features that can drop right into an application.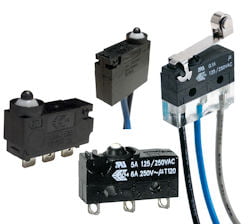 These reliable and rugged switches offer a variety of actuators, terminations, circuitry configurations, electrical ratings, contact materials, operating characteristics, and sealing allows them to be utilized in numerous potential applications. Carefully manufactured and thoroughly inspected, the MICRO SWITCH™ Z Series standard subminiatures are a great value for applications requiring sensing presence or absence of an object.
FEATURES
* Small size and light weight switches lend themselves to numerous potential applications
* Choice of low energy or power-duty electrical ratings allow the switch to be specified in more types of applications
* Broad range of amp ratings (from 0.1 A to 10.1 A)
* Watertight IP67 sealing available on some listings allows the switch to be used where sealing and presence/absence detection is required
* UL/CSA, cUL, ENEC, and CE approvals
POTENTIAL APPLICATIONS
Industrial: Appliances, communication equipment, computers, electromechanical timers, mechanical cam assemblies (timers), office equipment, electric tools, HVAC wall controls, instrumentation, valves, vending machines
Transportation: Automotive, truck, and boat wire harnesses; sub-assemblies for convertible roofs; lock modules for tail-gate/trunk; tank and hood latch detection
Medical: Medical and hospital beds, foot pedal controls, and chair lifts
Applications where a pre-wired sealed on/off switch is required
.
Enquiry Form: http://www.epreston.co.uk/enquiries.php
Home Page: http://www.epreston.co.uk/epblog/