Two separate catalogues now available for: Industrial Applications; Commercial and Residential Applications
Finder has announced the availability of two new catalogues for 2011/12 detailing the company's complete product range. The catalogues, one aimed at Industrial applications and the other targeting Commercial and Residential applications, contain essential reference information on timers, relays, interface modules, sockets and accessories for designers and buyers of electronic and electrical systems.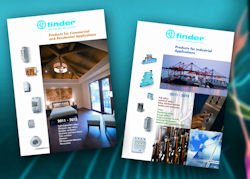 The 360-page Industrial Catalogue includes new series of interface relays, solid state relays, surge protection devices, panel thermostats and timers. This latest edition is divided into 3 product sections: plug-in / PCB relays; relay / interface modules; timers and monitoring relays. There are comprehensive specifications and ordering data for all products. For relays this includes coils, contacts, insulation and life figures, performance graphs, connection and dimensional diagrams. For timers and monitoring devices the catalogue features full illustrations and explanatory timing charts, switch settings, display and LED indication, along with application notes and guidance. To simplify ordering, all related socket and accessory information immediately follows the main product data.
In addition, an extensive general technical information section provides background on reference standards, terminology and definitions. This section has been expanded to include data on contact load classifications, UL approval file numbers and contact material characteristics.
The 78-page Commercial and Residential edition specifically focuses on energy saving lighting control, movement detection, time switch and temperature control products and features new items such as modular contactors, dimmers and room thermostats. Full technical and ordering data is provided together with performance and setting illustrations.
.
Enquiry Form: http://www.epreston.co.uk/enquiries.php
Home Page: http://www.epreston.co.uk/epblog/