Finder has announced additions to its 18 Series of PIR motion detectors supporting a variety of interior energy saving schemes.  The compact 18.21 and 18.31 variants will meet the needs of higher ceiling, higher load switching applications and those requiring direct interface to a PLC or BMS.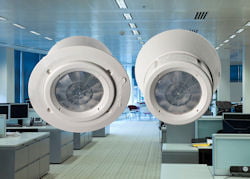 Recess mounted, the flush fitting 18.31 suits suspended or plasterboard ceilings while the 18.21 is a low profile PIR for hard surface mounting.  Providing a 10 amp rated normally open volt free output, the detectors will switch loads at any voltage and are not restricted to 230VAC mains tasks.  24V ac/dc supply versions are also available for applications without a mains supply or where safe, low voltage operation is required.
With a 110º wide sensing angle and a reach of 2.8m, the 18.21-0300 and 18.31-0300 PIRs will handle all types of regular ceiling height applications.  For high bay or extended ceiling height duties, the 18.31-0031 PIR variant offers a much longer sensing range of up to 8m.
The Finder PIRs also offer an adjustable light threshold setting allowing operation to be varied according to ambient light conditions.  In addition, an enhanced light-on time adjustment of up to 35 minutes makes the PIRs well suited to HID lamp applications, which for reasons of preserving lamp life, place a restriction on the number of starts per hour.
.
Enquiry Form: http://www.epreston.co.uk/enquiries.php
Home Page: http://www.epreston.co.uk/epblog/