It's Time to Cut the Cord.   Retire the Wire.   To Give the Best Ideas Free Rein.   Introducing the Limitless™ Series That Allows Users to Go Farther, Work Smarter, and Explore More Possibilities Than Ever Before.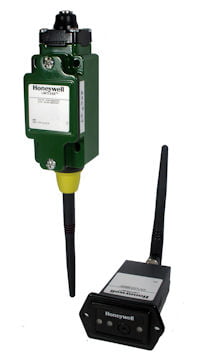 .
Honeywell introduces a new series of wireless limit switches that combine great flexibility with proven harsh-duty packaging to increase efficiencies and improve safety for machines, equipment, OEMs, and operators. The new Limitless™ Series of switches and monitors offers a new way of working that delivers more flexibility, more up time, more reliability, and more freedom.   Honeywell Sensing and Control develops this technology to be a truly cutting-edge, cost-saving solution.
The new Limitless™ product line combines the best of MICRO SWITCH™ global switches with wireless technology. Limitless™ WGLA Series limit switches feature the latest commercial off-the-shelf wireless technology, especially beneficial for remote monitoring applications where wiring, or wiring maintenance, is not physically possible or economically feasible. Limitless™ wireless switches and monitors use 802.15.4 as it is license free, globally acceptable, and requires low power consumption. They also employ WLAN RF 24 GHz standard radio bands, conform to international IEEE 802.15.4 standards, and feature a 16-bit address and 128-bit security key.
 
Up to 16 Limitless™ switches may be networked together and paired with one Limitless™ WPMM monitor. When used together, Limitless™ components have up to a 304 m [1000 ft] line-of-sight communication range. These switches may be used in a variety of remote monitoring applications, including valves, construction/agricultural machines, cranes, grain diverters/flaps, lifts, material handling, door positioning, conveyors, presses, and specialty machines.
With Limitless™ products, Honeywell is harnessing the power of possibility… bringing the promise of wireless technology to a new world of applications. The Limitless™ WGLA and WPMM Series are just the beginning as Honeywell plans to introduce more in the series of wireless switches and receivers throughout 2010.
.
Enquiry Form: http://www.epreston.co.uk/enquiries.php
Home Page: http://www.epreston.co.uk/epblog/