Employing Crydom's proven DC solid state switching technology, the new LVD series provides a simple means of disconnecting batteries from their loads to prevent operational problems or damage resulting from deep cycle discharge.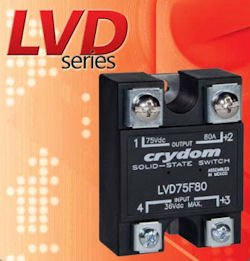 .
Crydom's new "LVD" series of DC output Low Voltage Disconnect Solid State Switches is designed to disconnect 12 or 24 volt battery systems from their loads when the battery voltage falls below a pre-selected DC voltage. The LVD will also automatically reconnect the load circuit once the battery voltage returns to a normal value after charging. The LVD series is offered in a rugged industry standard encapsulated panel mount package with screw terminals.
The Crydom LVD series requires no operator interface to interrupt or reconnect the battery circuit. Featuring all solid state construction with a low Rds on resistance FET outputs rated at 40, 60, 80 or 100 amps maximum, the LVD series is available with 6 different threshold voltages to choose from. The LVD series is RoHS & China RoHS compliant.
.
Enquiry Form: http://www.epreston.co.uk/enquiries.php
Home Page: http://www.epreston.co.uk/epblog/