Crydom's proprietary thermal management technology utilized in the new "SeriesOne DR" line offers 6 & 12 amp single and 6 amp dual channel output ratings in compact 11 & 18mm wide DIN Rail mounted SSRs.
Crydom's new "SeriesOne DR" family of AC and DC output DIN Rail mounted Solid State Relays are intended for use in heating, lighting and motion control applications where DIN Rail mounting is preferred and higher output power ratings are required. Featuring a unique proprietary thermal management design with no exposed hot metal surfaces for safety, the SeriesOne DR family includes AC output ratings at 40°C ambient for single channel models of either 6 or 12 amps, and dual AC output models with 6 amps per channel, each rated at either 12 to 280 vac or 24 to 600 vac. DC output model ratings at 40°C ambient include single channel versions rated at either 6 or 12 amps and 1 to 60 vdc or 1 to 100 vdc.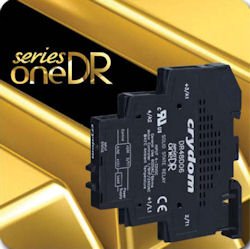 The SeriesOne DR features 4 to 32 vdc, 90 to 140 vac, 208 to 265 vac or 18 to 36 vac inputs and includes an LED input status indicator. The SeriesOne DR 6 amp single channel versions are 11 mm wide while the 12 amp single channel and 6 amp dual channel SSRs are each 18 mm, all mounting on the industry standard 35 mm DIN Rail.
AC output versions offer 3.75kV all solid state optical isolation with SCR outputs and are available in either zero voltage turn-on for resistive load applications, or random turn-on for inductive load applications. DC outputs offer 2.5 kV all solid state optical isolation with FET output for either resistive or inductive load applications. SeriesOne DR SSRs are RoHS & China RoHS compliant, CE certified, UL and cUL recognized including both General Purpose and Motor Controller ratings.
.
.
Enquiry Form: http://www.epreston.co.uk/enquiries.php
Home Page: http://www.epreston.co.uk/epblog/