With its latest ranges of compact yet versatile timing relays, Moeller Electric now offers convenient and cost-effective timer options covering virtually every control panel and power distribution application.
Special features of the Moeller Electric timer family include models for operation direct from 400V supplies, which are ideal for use in three-phase systems where no neutral is available, models with remote adjustment facilities, and ultra-compact versions just 17.5mm wide, which save valuable space in distribution boards.
Featuring the same design and dimensions as the popular DILEM contactors, DILET timers are well suited for control panel applications. They are available in three types, the DILET 11-30 which is an economical option where an on delay of between 1.5 and 30s is required; the DILET 11-M which also offers an on-delay function, but has ten timing ranges covering 0.5 seconds to 60 hours; and the DILET 70 multi-function relay which offers a choice of eight timing functions as well as the option of adjusting the setting with a remote potentiometer.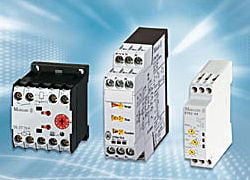 DILET timers can be supplied in universal versions for use with AC and DC supplies anywhere in the range 24V to 240V, and for 400V AC operation.
For applications where maximum versatility is required from a compact timing relay, Moeller Electric offers the ETR4 range. Just 22.5mm wide, these DIN-rail mounting units cover times of 0.05s to 100h in ten ranges, and offer a choice of different timing functions. The range offers a basic on-delayed timer, a star-delta timing relay and two multi-function relays, ETR4-69 and ETR4-70 offering eight timing functions. The ETR4-69 has a single changeover output contact, while the ETR4-70 has two changeover contacts and also allows the connection of a potentiometer for remote adjustment.
Both the ETR4-69 and ETR4-70 have an opto-isolated input to allow timing to be initiated from almost any kind of external circuit, and both incorporate LEDs that give a clear indication of current status.
Moeller Electric's ultra-compact ETR2 timing relays have been specifically designed for use in distribution boards, and are the same size as most miniature circuit breakers. In spite of their small dimensions, they offer a timing range from 0.05s to 100h, and are available in six different versions, including a multi-function model. All ETR2 relays are suitable for use with AC and DC supplies in the range 24V to 240V.
.
Enquiry Form: http://www.epreston.co.uk/enquiries.php
Home Page: http://www.epreston.co.uk/epblog/