Eaton's Vehicle Controls Business Unit (VCBU) manufactures a extensive line of vehicle controls and commercial switch products. Products range from standard electromechanical switches to custom electronic human interface solutions, and are sold direct to the OEM or through an extensive distributor network. Engineers in our QS 9000 Quality System Certified facilities can work with you to develop the custom products you require in your individual application.
Markets Served Include:
*  Transportation (Truck, Bus and Specialty Vehicles)
*  Off-Road Vehicles
*  Construction Vehicles
*  General Commercial Applications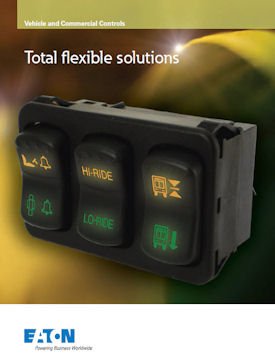 Eaton Vehicle & Commercial Controls Catalogue
http://www.eaton.com/EatonCom/Markets/Electrical/Products/LogicControl/VehicleandCommercialControl/index.htm
UK Distributor: E. Preston (Electrical) Ltd
Tel:  +44(0)161 339 5177
Fax:  +44(0)161 343 1935
Email: sales@epreston.co.uk
Web:  http://www.epreston.co.uk/
.
Enquiry Form: http://www.epreston.co.uk/enquiries.php
Home Page: http://www.epreston.co.uk/epblog/