Schurter series 5008 inlet, according to IEC C8, with integrated EMI filter meets the increasing demands of IT, medical and consumer appliances for cost reduction and downsizing. The 5008 inlet provides a maximum performance and cost savings in a lightweight and environmental friendly package. The new design is now available with options for screw and snap-in mounting version.
The new 5008 series combines an IEC C8 inlet with a line filter for low power applications.  The EMI filter is dimensioned as a 1-stage filter for rated currents up to 2.5 A according IEC respectively 6 A according UL and available as standard or medical version. The integrated EMC filtering mounts directly at the point of power entry, ensuring an optimal effect on the electromacnetic compatibility performance of the unit.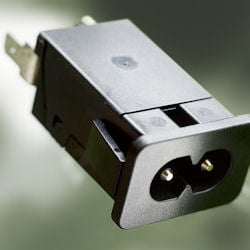 Mounting options include screw-on or snap-in mounting. The snap-in mounting technique reduces the assembly costs considerably for reduced handling and ease of assembly. The connection is made with quick-connect terminals. Optional solder terminals are also available.
The unit is designed for use in IT, medical and home applications appliances. The 5008 is the optimal solution, combining uncompromised features and performance with compactness of design to meet the increasing demands in cost efficiencies and ecological concerns. The series is ENEC and cURus approved and complies with IEC/EN standards for office and medical equipment, 60950 and 60601-1 respectively.
Technical Features:
* Appliance inlet IEC C8 acc. to 60320 with EMI filter
* Current ratings: up to 2.5A at 250 VAC (ENEC/UL/CSA) or  A at 125/250 VAC (UL/CSA)
* Screw-on mounting and snap-in mounting
* Standard and medical version
.
Enquiry Form: http://www.epreston.co.uk/enquiries.php
Home Page: http://www.epreston.co.uk/epblog/