Finder has announced a series of digital energy meters for accurately monitoring and measuring electricity consumption in plant and machinery, HVAC, lighting and other environmental control equipment.  The DIN rail mounted 7E Series provides users with local, high visibility 7-digit LCD display of total and partial kWh consumed, instantaneous power, voltage and current.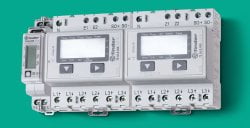 For single phase metering of currents up to 35A, the 7E.23 model is just 17.5mm wide and is operated by a single control key.  The 70mm wide, two control key 7E.46 and 7E.56 meters serve 3-phase applications; the 7E.46 handling currents up to 65A and both day and night tariffs, and the nominal 5A 7E.56 is usable with suitable current transformers for measuring up to 1.5kA.
To support remote energy management via a centralised BMS, these digital meters also provide a pulsed, open collector interface to the DIN43864 standard.  The 3-phase models also provide an error display indicating either missing phase or incorrect current direction.
The 7E Series digital energy meters meet the 1/B accuracy class and protection class II and comply with EN62053-21 and EN50470 norms.  They can be conveniently mounted in existing consumer units and protected by a tamper-proof cover with a lead seal, provided as a separate accessory.
.
Enquiry Form: http://www.epreston.co.uk/enquiries.php
Home Page: http://www.epreston.co.uk/epblog/