Schurter has extended its range of DKFP current compensated chokes and offers now rated currents from 300mA to 10A.  The DKFP chokes series cover now inductance values from 1 mH to 100 mH.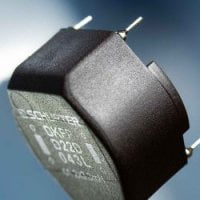 Schurter announces several new current ratings to its popular DKFP series.  The rated voltage of the DKFP compensated chokes is 250 VAC. The chokes are designed for temperatures of between -40 °C and 125 °C. The chokes are available in vertical or horizontal versions.  The DKFP current compensated chokes are highly effective in suppressing common-mode interference. The DKFP current compensated chokes may be used in line filter circuits, frequency converters, switch-mode power supplies and solar converters.
Technical Features:
– Rated Voltage 250 V AC
– Rated Current 300 mA to 10 A
– Rated inductance 1 mH to 100 mH
– Multiple housing options available
– Design complies with EN 60938
.
Enquiry Form: http://www.epreston.co.uk/enquiries.php
Home Page: http://www.epreston.co.uk/epblog/