Arcolectric now offer an integral moulded guard for its 1550 and 1350 range of double pole rocker switches. The guard is an extension of the rocker switch bezel on two sides and is designed to reduce the possibility of accidental switch operation.
This option can also be used with an additional hinged cover to provide even more protection against accidental operation of the switch. The cover is available in various colours to suit the switch body colour or transparent polycarbonate for use with illuminated switches, allowing visual confirmation of switch status without having to open the protective cover.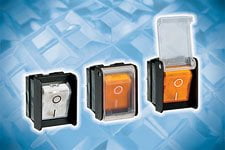 These two new product variants are available for Arcolectric's double pole 1550 and 1350 series, on all switching operations in the L style bodies, which fit into 30mm x 22mm panel cut-outs.
This simple addition to the switch body extends the useful application of this product into areas where security or safety of switch operation is of paramount importance.
The 1500 series of switches have ratings up to 16(4)A 250Vac with a wide choice of terminal options, alternative switching circuits including 3 position types with a variety of rocker switch profiles, body sizes and bezels. The 1350 is a high in-rush version rated at 150A to EN61058-1. Matching indicators are also available to complete the range.
Enquiry Form: http://www.epreston.co.uk/enquiries.php
Home Page: http://www.epreston.co.uk/epblog/