Compact TA35 with new rotary knob actuation in 1-, 2- and 3-pole versions
Schurter introduces an additional actuator to its exisiting and successful TA35 circuit breaker series. This new actuator provides a grip and turn style knob, which is ideal for switching with gloves or where longer feedback is desired. The design allows for customer specific colored faceplates and knob designs.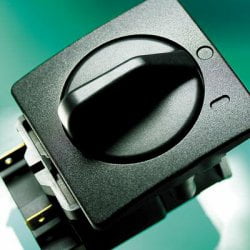 The new TA35 rotary switch offers IP 40 protection and fits panel thicknesses ranging from 2 to 3 mm. Terminals are for 6.3×0.8 mm connections. Switch and thermal overload protection current ratings range from 0.05 A to 20 A for 1- and 2- pole types, and 0.05 A to 12 A for the 3-pole version. Typcial applications are power tool machines, high pressure cleaners, power generators and compressors. The CBE is approved according to IEC 60934, UL 1077, CSA C22.2 235 and GB 17701 and is RoHS compliant.
– Thermal Circuit Breaker 1-, 2- or 3-Pole
– Full VDE, cURus and CCC approvals
– Rotary Knob Actuator with custom options
– Ambient Temperature: -30 °C bis +60 °C
– Positively Trip-free release
Enquiry Form: http://www.epreston.co.uk/enquiries.php
Home Page: http://www.epreston.co.uk/epblog/