High-performing Sensors Designed to Help Reduce Manufacturing Costs
and Increase Application Flexibility
Honeywell introduces its HIH-5030/5031 Series humidity sensor that supports demanding system performance requirements, providing enhanced stability, accuracy, and response time over the entire humidity range of 0 %RH ~100 %RH.
The HIH-5030/5031 Series includes a Surface Mount Device (SMD) product on tape and reel that allows for use in automated, high-volume, lower cost pick-and-place manufacturing (1,000 units per reel), reducing lead misalignment to printed circuit board through-holes. Low supply voltage (down to 2.7 Vdc) and low current draw often allows for use in low drain, battery operated systems. Additionally, the HIH-5030/5031 Series' accuracy, interchangeability, response time, and stability may contribute to cost savings over the life of the product.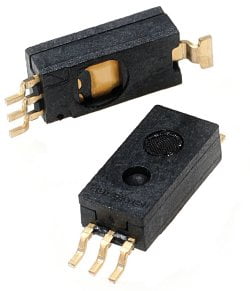 The HIH-5030/3031 Series complements Honeywell's existing HIH-4030/4031 Series of SMD humidity sensors. The Series consists of Complementary Metal Oxide Semiconductor (CMOS)-based humidity sensors that use capacitive technology to provide an analog voltage output in a solderable SMD package. The sensing element's multi-layer construction provides enhanced resistance to most application hazards such as condensation, dust, dirt, oils, and common environmental chemicals.
The HIH-5030 is a covered integrated circuit humidity sensor. The HIH-5031 is a covered, condensation-resistant, integrated circuit humidity sensor that is factoryfitted with a hydrophobic filter allowing it to be used in many condensing environments.
HIH-5030/5031 Series humidity sensors' potential industrial and medical applications include air compressors and drying equipment, battery-powered systems, HVAC, OEM assemblies, process equipment, refrigeration, weather stations and meteorology equipment, hospital air compressors, infant incubators, microenvironments, sleep apnea equipment, and treadmill stress monitoring equipment.
Enquiry Form: http://www.epreston.co.uk/enquiries.php
Home Page: http://www.epreston.co.uk/epblog/