The 30 amp versions of the CKR series 22.5mm DIN rail solid state relays offer an exceptionally high surge current rating for enhanced reliability in applications, including those using circuit breaker protection!
Crydom, an operation of Custom Sensors and Technologies (CST) and global expert in solid state relay technology, introduces enhanced one-cycle surge current and I2T ratings in the popular 30 amp CKRA / CKRD series 22.5mm solid state relays. Higher surge and I2T ratings are made possible by utilizing larger power semiconductors thus providing greater current handling capabilities.
As part of an ongoing process to improve and validate existing design specifications, engineers at Crydom have increased the 30A CKR series one-cycle surge current and I2T ratings which are now well in excess of the previously published specifications. Utilizing oversized SCR die and with a superior mechanical and thermal design, the CKRxx30 relays now boast a 1,140Apk / 1,200Apk (50Hz / 60Hz) one-cycle surge current rating, and a 6,500A2S / 6,000A2S (50Hz / 60Hz) I2t rating.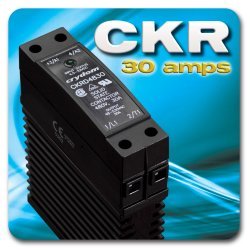 These enhanced ratings make the CKR 30 amp series ideal for use in heavy industrial applications where surge currents may be of significant concern, or where branch circuit protection is provided by slower reacting  circuit breakers. 
Additional features and benefits of the CKR series include a compact 22.5mm DIN mount package, integral heat sink that eliminates the need for additional thermal calculations and assembly, LED input status indicator, 4000V optical isolation, cage-clamp terminals, optional internal overvoltage protection, and an internal RC snubber network. They are available with output ratings up to 30 amps at 530Vac with either zero-crossing (resistive loads) or random turn-on (inductive loads) switching. They are also available with a 4-32Vdc, 90-280Vac, or 18-36Vac input.
The CKR series solid state relays are UL recognized, CSA certified, VDE approved, and RoHS and CE compliant. Crydom's CKR series are for ideal for use in a wide variety of applications including resistive heating, motor, and lighting control systems.
Enquiry Form: http://www.epreston.co.uk/enquiries.php
Home Page: http://www.epreston.co.uk/epblog/