Blade-type fuse replacements distinguish genuine overloads
E-T-A Circuit Breakers, quality designer and manufacturer of a broad range of electro-mechanical and electronic products for circuit protection, has introduced a new low cost E-T-A 1626 miniaturised circuit breaker designed as a direct replacement for blade-type fuses. It provides superior protection to fuses through its ability to distinguish between temporary surges and genuine overloads. As well as protecting electrical circuits in cars, trucks and buses, it can also be used in watercraft and other 12/24V DC wiring applications, such as heavy-duty and off-road vehicles.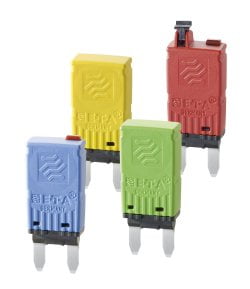 The new blade-type E-T-A 1626 Mini-CBE is available in three versions – with automatic reset, with a reset button, or with both a manual release and a reset button. The colour coded E-T-A 1626s are available in all the standard current ratings offered by blade fuses from 5A up to 30A. Depending on the version, when the 1626 has tripped it resets automatically when the load is removed or the re-set button pops up showing clearly which circuit has a fault.
The colour coding provides quick and easy identification to ensure correct plug-in placement in standard ISO 8820-3 Type F automotive blade-type fuse blocks, or the E-T-A 1626 can be fitted to purpose-designed E-T-A modular mounting bases. At the same time, the electrical performance characteristics of the E-T-A 1626 enable it to distinguish between temporary surges and genuine overloads, providing superior protection to fuses. This is especially important for motors, lamp loads and other circuits where discrimination is necessary between in-rush currents and normal operating conditions. Also, E-T-A circuit breaker performance is stable over time: fuses can age, causing their blow characteristics to change, which may lead to nuisance blowing of fuses with consequent problems while the vehicle is in use.
Overall dimensions of the body of the overcurrent circuit breaker are just 25mm in height above the blade x 13.3mm wide x 7mm thick. The operating temperature range is -40 degrees C to +85 degrees C.
Enquiry Form: http://www.epreston.co.uk/enquiries.php
Home Page: http://www.epreston.co.uk/epblog/