Cherry Electrical Products' new range of V4 sub miniature DZ switches offers a Positive Break Action feature. This mechanism operates when the contacts are welded or clotted and the operating force is insufficient to open the contact. In addition, parts consist of cadmium-free contact material in accordance with RoHS directives.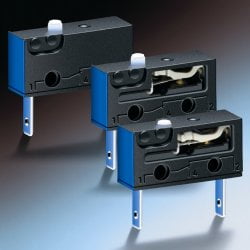 The DZ range operates at temperatures between -20 and 85degC, with a contact resistance of less that 100mΩ between 100mA and 10VDC. The device switches high inductive loads 3 (3)A 250 V at 50,000 cycles and complies to standard EN 60335-1 for resistance against heat and fire.
DZ switches are especially designed for motor drives (sun blinds; adjustable beds, armchairs and office desks; automatic doors and gates…). Devices are also applicable as limit switches for industrial automation, and as auxiliary switches for medium-voltage systems.
Enquiry Form: http://www.epreston.co.uk/enquiries.php
Home Page: http://www.epreston.co.uk/epblog/