Schurter's USF 1206 surface mount fuse has an interrupt rating of 50 Amperes at 63V DC across the entire range. The thin-film, chip fuse also touts low voltage drop and power dissipation ratings, providing exceptional performance in dense circuits. The 1206's super quick-acting tripping time is especially suited for sensitive electronic devices that require extremely reliable over current protection.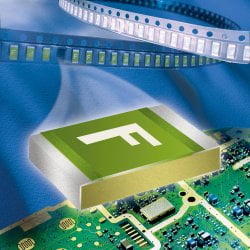 A legend marking provides visible indication of the fuse's ampere rating, making it easy to identify and track inventories. The USF 1206 is an industry standard 1.60 mm in length and 3.20 mm in width with a low height of 0.60 mm. It is built according to UL 248-1/248-14 and is cURus approved. The fuse is lead-free, including the fusing element. Resistance to soldering heat is 260ºC/10 seconds according to IEC 60068-2-58 and 260ºC/30, respectively IEC 60127-4. Operating temperature is –55 to +90ºC.
The USF 1206 is ideal for small hand held devices such as computer peripherals, PC cards, disc-drives, modems, fax machines, play stations, laptops and other portable electronic devices. Available taped in 1,000, 5,000 and 15,000 piece reels.
Enquiry Form: http://www.epreston.co.uk/enquiries.php
Home Page: http://www.epreston.co.uk/epblog/