Patent-pending, compact, high-functional density
design meets off-road vehicle requirements
Honeywell has introduced a new line of handlebar controls to meet off-road vehicle manufacturers' desire for controls that are easily customized, incur low upfront tooling costs, enhance safety,and increase design flexibility.
Honeywell Sensing and Control's new 1080HD Series Handlebar Controls provide off-the-shelf, SAE spec-qualified handlebar controls that provide a greater number of functions per package volume and are easily configured in different ways. With little up-front investment for the OEM, Honeywell's platform approach creates a customized right or left-hand control in a cost-efficient, qualified handlebar control to support short OEM product design cycles.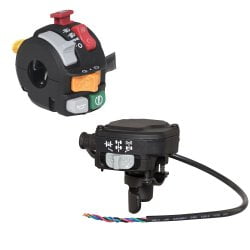 The 1080HD Series offers enhanced safety through an optional runaway prevention switch, and through a smaller form factor that enables easier user access to critical vehicle functions.
To meet additional requirements for design flexibility and aesthetic differentiation, Honeywell developed three patent-pending designs that can be applied to the new handlebar controls. Common components and inserted tooling reduce
tooling investment and minimize procurement complexity while also improving manufacturability. The product's smaller size and easy configurability increases OEM design flexibility in both functions and in attachment and accessory options. Standard
circuitry and components shorten OEM product development times, and the unique design specification meets most North American off-road and European on-road requirements.
These customized controls may be designed for use on appropriate vehicles with handlebars, including ATVs, snowmobiles, electric vehicles, Segway® mobile platforms, motorcycles, or standing, handle bar-maneuvered machines (i.e. industrial
sweepers, grocery/luggage cart collectors, etc.)
Enquiry Form: http://www.epreston.co.uk/enquiries.php
Home Page: http://www.epreston.co.uk/epblog/