IP56 Rated Against Damp and Dust: Long Product Life
Cherry Electrical Products has launched three new families of waterproof rocker switches which are available rated for various AC and DC voltages, including high current 20A versions.  Typical product applications include outdoor power equipment, such as sprayers and power tools; garden vehicles such as lawn mowers; automotive products like dashboards and window controls; other types of non-road transport, including boats and snowmobiles, and medical equipment, for example, oxygen concentrators.
Three families of rocker switches are available:  the KG, KM and KT series, which cover a wide variety of pole, throw and switch function options to support such a diverse range of customer applications.   All three families are rated to IP56 against water ingress or dust and are approved under UL and VDE.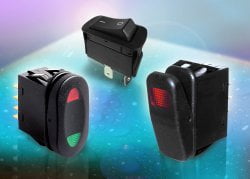 The KG series includes one single pole, single throw (SPST) switch, (on-off), two SPDT (on-on and on-off-on) and one DPDT version (on-off-on), all with black actuators and frames, designed with snap-in mountings to fit panel cut-outs of 1.449in x 0.835in (36.80mm x 21.20mm).   Electrical ratings are: 21A 14VDC and two UL1054 rated versions: 20A 125VAC and 10A 250VAC.   Temperature rated from -20degC to +85degC, and with a mechanical life of 100,000 cycles, these switches are robust enough to withstand repeated use in tough environments.
The KM family of waterproof rocker switches is available as single pole, single throw or single pole, double throw and two double pole versions with single or double throw, and is available lighted and non-lighted.  The actuator and housing are both black, with red or green lenses for lighted versions.  Electrical ratings are 20A 125VAC, 10A 250VAC and 21A 14VDC, with a dielectric strength of 1500 VAC for 1 minute.
KT series SPST and SPDT switches are oblong with black oblong actuators and are designed for easy snap-in mounting on panel cut-outs of 1.454in x 0.602in (36.80mm x 15.20mm).  Both lighted and non-lighted versions are available.   Electrical ratings are: 21A 14VDC; an EN61058-rated 10(4)A 250V version; and two UL1054 rated switches –  20A 125VAC, 1/3HP and 10A 250VAC, 3/4HP.
Enquiry Form: http://www.epreston.co.uk/enquiries.php
Home Page: http://www.epreston.co.uk/epblog/