Three new families of pushbutton and rocker switches now immediately available: to suit automotive, medical, and power equipment
  
Cherry Electrical Products' new KC, KF and KD round waterproof switches comply with IP56 or IP65 specifications to provide a cost-effective solution for the vast number of applications requiring protection from water and dust ingress, such as garden sprayers, powered garden tools, lawnmowers, on and off-road vehicles and medical equipment.  Three product families are available: the KD and KC series of round rocker switches and the KF switch series for products requiring a pushbutton solution.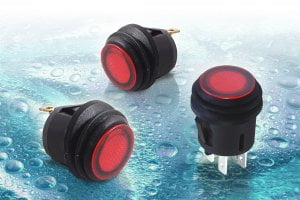 IP56-rated KC series switches are designed to fit panel cut-outs of 0.795in (20.20mm) diameter, and are available in lighted and non-lighted versions, with black actuator and housing for the non-lighted version and red actuator, black housing and red lens for the lighted version.  This series of single-pole, single-throw (SPST) function switches offers multiple terminal options.  Electrical ratings include 16A 125VAC, 10A 250VAC, 20A 14VDC, 10A 28VDC and an EN61058 rated version in 10(4)A 250V.
KD series switches are available in two versions: DPST (double pole, single throw) and DPDT (double pole, double throw).  Featuring snap-in mounting to fit the same aperture sizes as the KC series, they can be ordered in lighted and non-lighted versions and handle DC and AC loadings to the following specifications: 16A 125VAC, 10A 250VAC, 20A 14VDC, 10A 28VDC and have quick connect 0.187in (4.76mm) terminals.
For applications requiring a round pushbutton switch rather than a rocker, the KF-series is offered in five different versions, both SPST and DPST and both types of switch can be supplied lit and unlit as required. Maintained-action and momentary switching is a further option. The KF series has quick-connect 0.187in (4.76mm) terminals and is IP-65 compliant. Electrical ratings are: 20A 14VDC and 10A 28VDC, and in UL 1054 ratings of 10A 125VAC; 6A 250VAC; 1/2HP; 125/250VAC are available. 
All three switch families are robust in use, offering a mechanical life of 100,000 cycles and a long electrical life of between 6,000 and 25,000 cycles.
Enquiry Form: http://www.epreston.co.uk/enquiries.php
Home Page: http://www.epreston.co.uk/epblog/