Schurter's series USI 1206 Universal Modular Fuse (UMF) is an IEC quick-acting (F) fuse in a surface mount chip fuse package. It is approved according to IEC 60127-4/2 VDE, and bears international approvals by cURus, METI and CCC.
The fuse series has high melting I2t values, which provides greater withstand against high inrush or pulse currents. Its opening time compares to 1206 time-delay types according to UL in lower overcurrent conditions. Conversely, the fuse responds very quickly to higher overcurrents in the event of a fault condition. Current ratings range from 0.5 to 6.3 A with voltage ratings of 63 VDC and 32 VAC. The device has a breaking capacity of 63 A at rated voltages and an operating temperature range of – 55°C to + 90°C.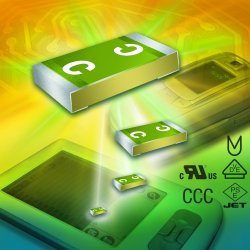 The USI provides optimal secondary overcurrent protection in power inverters and low-voltage power supplies in an extremely small package 1206 (3.2 mm x 1.6 mm x 0.6 mm). It is also ideal for protection of integrated display and storage subsystems, portable medical devices and sensor-rich in-car electronics where reliability of performance is critical. The thin film technology process used to produce the fuse yields very predictable and stable performance results, as each fuse passes through the testing procedure in order to qualify for use in the most sensitive electronic systems.
The device supports lead (Pb)-free soldering in reflow, or vapour phase processes and is RoHS compliant. It is supplied on tape either with 1k, 5k or 15k pieces.  Each fuse is marked for clear visual identification.
Enquiry Form: http://www.epreston.co.uk/enquiries.php
Home Page: http://www.epreston.co.uk/epblog/