Schurter's original IEC 60127-4 Universal Modular Fuse, series UMT 250, is now offered in a convenient package to simplify fuse replacement. The new fuse and fuseholder combination, dubbed the UMZ 250, provides high performance overcurrent circuit protection in primary or secondary circuits. The compact and leadless unit also provides assembly advantages over conventional through-hole fuse blocks and clips. The low profile facilitates increased production speed, especially with assembly processes using automated pick and place systems.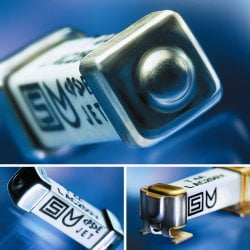 Current ratings for the fuse with fuse clips range from .315 mA to 4 A. The stand-alone fuse UMT 250 includes twenty two current ratings, ranging from 80 mA to 10A. Voltage ratings are 250 VAC and 125 VDC according to IEC and 277 VAC and 250 VDC according to UL. The fuse opens according to IEC 60127-4 time-lag characteristic. Rated breaking capacity is up to 200A, which is desired for a wide range of primary circuit protection including power supplies, AC/DC converters, IT equipment, consumer electronics, battery chargers and health care devices. It is also ideal for secondary circuit protection in PC Cards, DC Motors, I/O Cards, and FET Protection, which require lower voltages. 
The UMZ 250 has gold plated caps for the purposes of the initial reflow soldering to the PCB. The UMT 250 fuse with tin-plated caps can be used to replace the original fuse. They are available in plastic bags of 100 pieces or tape and reel.
Enquiry Form: http://www.epreston.co.uk/enquiries.php
Home Page: http://www.epreston.co.uk/epblog/