IDEM SAFETY SWITCHES is a British company with over 26 years experience of solving machine safety interlocking problems.
Following the company's tradition for pushing design boundaries and creating innovative products, IDEM has produced the complete range of 'Next Generation' Safety Interlock Switches for use in general machine guarding.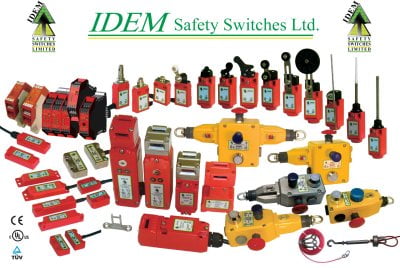 The IDEM range includes:
Tongue Interlock Switches including Plastic, Metal and Solenoid Locking switches (Kobra range).
Safety Rope Pull Series (Guardian Line range) – largest range of rope pull switches in the world, up to 250m. with one switch and patented non slip tensioning system.
Coded Non Contact Switches (Idecode / Hygiecode range) – including compact Stainless Steel versions with LED and 3 output circuits.
Safety Relays (SCR range) – standard 22mm and new MODUS pluggable and expandable system – EN954-1 Category 4 and EN62064 SIL3.
Safety Limit Switches – Direct operating Mechanisms and 3 circuits.
IDEM Product highlights for 2009 include Stainless Steel 316 Interlock switches Tongue, Solenoid, Non Contact all IP69K rated to cope with the rigorous demands of the food, beverage and pharmaceutical environments.
Full range of ATEX Explosion Proof switches.
Enquiry Form: http://www.epreston.co.uk/enquiries.php
Home Page: http://www.epreston.co.uk/epblog/