Evolution Dual Output SSRs feature new input and output
termination options and higher output power ratings of up to
50 amps/ 660 VAC per channel for greater power density!
Crydom, an operation of Custom Sensors and Technologies (CST) and global expert in solid state relay technology, introduces a new line of AC output Dual Solid State Relays featuring new IP20 "touch safe" covers and LED input status indicators.
Evolving from Crydom's successful "D" and "H12" series Dual SSRs, the Evolution Duals offer an improved mechanical and thermal design providing higher capacity outputs and significantly increased power density. Screw termination suitable for rated load currents to 50 amps/ 660 VAC per channel is standard in either "SSR" or "Contactor" configurations. Each AC output channel features high power SCRs with high surge ratings and is available with either zero voltage or random turn on.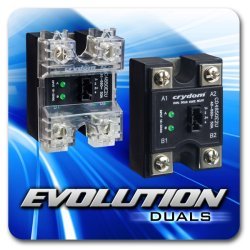 Four different input termination options (pin, locking connector, detachable barriers w/screws, and direct wire) are available with three different input voltage ratings including a wide range 4 to 32 VDC current regulated version. LED input status indicators for both channels are standard.
Evolution Dual SSRs are RoHS compliant, CE certified and have UL and cUL pending recognition.  Optional clear IP20 touch safe covers are available allowing a clear view of the power lead terminations while providing touch safe operation. Crydom's new Evolution Duals are for use in a wide variety of applications including Heating, Lighting and Motion Control due to its industry standard footprint.
Enquiry Form: http://www.epreston.co.uk/enquiries.php
Home Page: http://www.epreston.co.uk/epblog/