Schurter presents a breakthrough product, providing simple and universal EMC for high frequency applications, using X2Y® filter technology. Series 5150 possesses broadband suppression properties to 1 GHz and combines them with the most simple and universal power input.  This integrated and compact design provides an easy, safe and cost effective alternative to existing market solutions and opens new opportunities in the filtering of high frequencies.
Until now, X2Y® filter technology is known only for EMI protection in DC circuits. With the introduction of the Schurter 5150 series, the application of X2Y® is now extended to the area of AC power input. The technology is applied in place of X and Y capacitors, typically used in line filters today. It combines the X and Y capacitors into one component, thereby eliminating the leads connecting the capacitors and reducing parasitic impedances to a minimum.  This results in broadband suppression into high frequency ranges.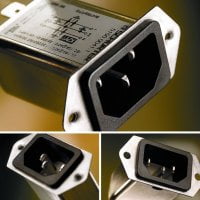 The double shielding between the X2Y® filter and filter casing, together with the broad metal flange can serve as an alternative for feed-through and multi-stage filters.  The compact package is designed for front- or rear-side mounting and uses the same panel cutout size as a typical filtered AC inlet. Filter variations include types for standard, medical and industrial applications.
The breakthrough design of the 5150 is the first of its kind to be safety agency approved for use in AC applications according to IEC and UL. It is ENEC approved up to 10 A 250 VAC and cURus approved up to 15 A 250 VAC.  Application examples include equipment for measurement engineering, data encryption, medical engineering, IT and telecommunications. It is suitable for use in office and medical applications in accordance with IEC/EN 60950 and/or 60601-1.
Enquiry Form: http://www.epreston.co.uk/enquiries.php
Home Page: http://www.epreston.co.uk/epblog/