The number of uses for Bulgin's 400 Series Buccaneer waterproof connectors has grown with the introduction of fully assembled cables using over-moulded cable connectors.
Using over-mould technology a secure, reliable and tamperproof cable termination is created which is dust and waterproof to IP68.  The two new cable connectors, PX0400 – flex, and PX0401 – flex in-line, allow secure connections to be made with in-line cable assemblies or cable to panel assemblies and are completely compatible with the current 400 Series panel connectors PX0412 and PX0413.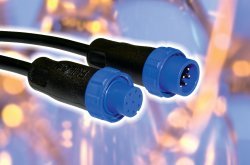 Over-moulding also provides a strong, durable strain relief around the cable functioning through a temperature range of -20°C to +85°C, while the polyurethane over-mould material has been tested and validated for use on PVC and polyurethane cable jackets.
These cable assemblies provide a secure interconnection system for OEM's who may require a 'customer-proof' solution, so are ideal for 'fit and forget' applications such as instrumentation, marine, medical, surveillance and CCTV.
The wide range of potential options, including cable construction, length, number of poles, flex or flex in-line connectors, may be combined with any other type of connector to provide an assembly to meet exact system requirements.
Enquiry Form: http://www.epreston.co.uk/enquiries.php
Home Page: http://www.epreston.co.uk/epblog/