Arcolectric's 8200 & 8300 Miniature Push Button switch ranges now have higher current ratings. Both ranges have been re-assessed for ENEC approval to 12(12)A 250Vac at 105?C for 10,000 operations.
The extensive 8300 range is available with either illuminated or non-illuminated buttons, in single or double pole with momentary or latching switch action. There are options for various switching functions, terminal styles – including push on, solder and PCB terminals, along with options for actuators, body finish, colours and legend printing.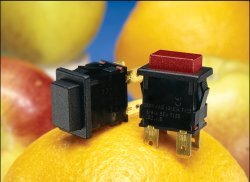 The 8200 range is sub panel mount with a choice of actuator types and terminal styles and orientation, these include push-on, solder and PCB terminals.
Both ranges have UL & CSA approval, as well as ENEC approval to the new higher current rating.
This higher inductive rating further extends the applications for these two families of switches into motor switching applications where the initial switching current can be far higher than a resistive load.
Enquiry Form: http://www.epreston.co.uk/enquiries.php
Home Page: http://www.epreston.co.uk/epblog/