Schurter is pleased to announce the added snap-in version of the series 5003 DC power entry module for 48V telecom and other DC-powered equipment. The new DC module features two different standard connector styles, AMP Universal MATE-N-LOK and Molex HCS-125. The connectors are encased with a single stage filter rated up to 15 A at 125 VDC. The filters provide wide-band attenuation in frequencies ranging from 100 kHz to 30 MHz.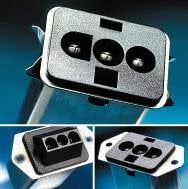 Demand for higher data processing and transmission speeds, at the Customer Premises Equipment level, pushes demand upstream to Internet Service Providers and eventually to the core Central Office services. This movement toward higher speed and functionality brings with it the challenge of effectively managing potentially harmful electro-magnetic interferences in equipment used throughout these communications systems. While filtered AC power entry modules have become a popular solution for filtering AC power lines, the concept of a DC filtered power entry module, specifically for telecom equipment, is relatively new.
The 5003 provides optimal shielding at the panel opening. It includes a screw mount version for front or rear mounting to the chassis as well as the new snap-in version. The version for rear mounting allows for pre-wiring of the module prior to installation. Labor cost saving options can be realized by using either the snap-in version or the rear mount version with its pre-threaded holes. 
The non potted design provides maximum performance in a lightweight and environmentally friendly compact package. The series is ENEC and cURs approved and complies with IEC/EN 60950 standard, for office and IT equipment. Applications include network routers, LAN switches, WAN switches and multiplexers, as well as other equipment using DC power supplies.
Enquiry Form: http://www.epreston.co.uk/enquiries.php
Home Page: http://www.epreston.co.uk/epblog/