This unique accessory provides a rear of panel seal to Bulgin's panel mounting waterproof Buccaneer connectors.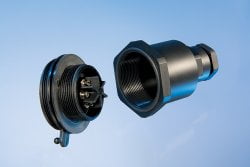 The PX0799 backshell replaces the existing panel nut, fixing the connector in place, and provides dust and water protection up to IP68 between the panel and the cable at the rear. This allows a through panel seal with waterproof connections both sides of the panel whilst still retaining a re-wireable capability.
Using the same cable gland sealing system as the standard Buccaneer cable connectors, it will accommodate 6 to 8mm diameter cable as standard, extending from 3.5 to 9.0 with alternative sealing glands.
Enquiry Form: http://www.epreston.co.uk/enquiries.php
Home Page: http://www.epreston.co.uk/epblog/