Schurter's new power entry modules, series DD11 and DD12, are designed to be extremely compact and robust. The DD11 is equipped with multiple functions including an IEC C14 appliance connector, switch and fuseholder. The DD12 combines the same functions and additionally includes a line filter.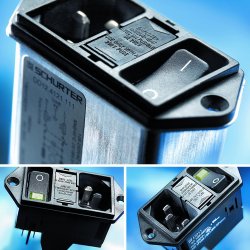 The compact design makes the series ideally suited for the use in equipment with limited space and more demanding electrical and mechanical requirements. Their excellent performance ensure their potential applications are wide-ranging, they are suitable for almost any application requiring detachable power, including medical, office, household appliances and automation. When mounted perpendicular to the board, the modules fit within one rack unit (1RU) enclosures, also making them particularly ideal for IT and telecom applications.
The series mounts to the panel with screws. The filtered version has a broad metal flange, ensuring optimal contact to the appliance chassis for ideal shielding and filtering. Special filters with enhanced voltage withstand are available on request. The series is ENEC and cURus approved and complies with IEC/EN standards for office and medical equipment, 60950 and 60601-1 respectively.
Enquiry Form: http://www.epreston.co.uk/enquiries.php
Home Page: http://www.epreston.co.uk/epblog/