Crydom has combined solid state and mechanical switching
technologies to create a contactor with longer operational life
than standard EMR's in an industry standard package!
Crydom, global expert in solid state relay technology, introduces a new line of high power Hybrid Solid State Contactors for use in Heating and Lighting applications where Mercury Displacement Relays have previously been applied, and where life cycle constraints limit the use of Definite Purpose Contactors.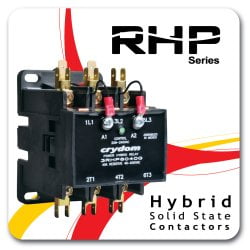 Mounting identically to a standard 3 phase DP (Definite Purpose) contactor, and featuring full load life cycle ratings of greater than 2 million operations, the new RHP line includes 3 phase contactor configurations rated at 120, 240, 280 or 600 VAC at 40 or 50 amp load ratings per phase at 65 degrees C ambient temperature. Control voltages of 24, 120 or 220 VAC, and unique logic compatible 5, 12 or 24 VDC input control options are offered. The RHP line is UL and cUL approved and CE certified.
The RHP line incorporates Crydom's proven Hybrid SSR technology that utilizes contactless Solid State Relay turn on and turn off performance, coupled with the very low on state power dissipation characteristics of contactors, thus eliminating the need for heat sinking. The higher power switching capabilities of the new RHP line means that in those applications where Mercury Displacement Relays are no longer welcome, the OEM manufacturer now has a cost effective alternative available. Similarly, in applications where contactor life cycles are a limiting or maintenance cost concern, the new Crydom RHP Contactor provides significantly longer operational life capability in an identical mounting package.
Enquiry Form: http://www.epreston.co.uk/enquiries.php
Home Page: http://www.epreston.co.uk/epblog/