The popular FN 3280 filter family from Schaffner is now also available for higher power applications thanks to its new frame sizes 300A, 400A and 600A. Complementing the existing series, the new filter models convince with their superior EMC performance, compact dimensions, and low leakage current.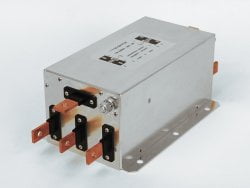 By expanding its FN 3280 series, Schaffner, the international leader in the fields of electromagnetic compatibility and power quality, has made it possible, for the first time, to use high-performance EMC/EMI filters in four-wire technology for higher-power applications.
The new 300A, 400A and 600A models are particularly designed for use in large industrial machines and plants with numerous motor drives, long motor cables, and high interference levels. They can also be used in inverter and converter applications such as Uninterruptible Power Supply (UPS), for example, or in the area of renewable energy.
The high current versions of the FN 3280 are available in a compact package and with solid copper bus bar terminals, ideal for fast and easy wall or floor installation.
FN 3280 filters are designed for 50 and 60Hz networks in four-wire configurations (3-P+N) up to 480V (+10%) and are available for nominal currents from 8 to 600A. The filters are UL, CSA, and ENEC approved and RoHS compliant.
Enquiry Form: http://www.epreston.co.uk/enquiries.php
Home Page: http://www.epreston.co.uk/epblog/