High performance EMC filters available with or without earth line
choke Optional medical versions (B type) meet IEC/EN 60601-1. 
Compact cost effective integrated EMC filter and IEC connector.
Schaffner, the international leader in the field of electromagnetic compatibility, has added two new products to its extensive range of filtered IEC connectors. IEC connectors and IEC filter connectors are commonly used in applications where the power cord needs to be disconnected from the end product, particularly for portable devices or to be able to deliver a product with a country-specific power cord and plug. The integrated EMC filter and IEC inlet component from Schaffner offers a cost effective solution which helps users to attain EMI approvals as well as reducing the number of components in a system. This also offers savings on handling and logistics costs at the manufacturing facility.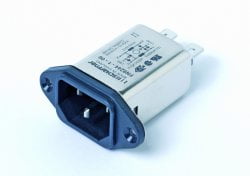 The new high performance, competitively priced, Schaffner FN 9244 series offers approximately 10dB more noise attenuation than the existing FN 9222 in the same compact package making it ideal for noisy applications. Medical versions meeting IEC/EN 60601-1 are available standard options. Reliability is enhanced by the use of a saturation resistant core and good thermal behaviour. High differential and common-mode attenuation is achieved and current ratings are up to 15A. Snap-in mounting versions are available to fit panel thickness from 0.7 to 2.2mm and a wide mounting flange option may be specified for ruggedised products, all models are RoHS compliant. The complementary FN 9244E offers the same high performance and functionality as the standard FN 9244 with the inclusion of an earth line choke for additional EMC suppression on the earth line.
The new FN 9244 IEC medical standard inlet filters have been developed in response to requests from our customers for high performance, compact, filtered mains connectors. We have made them the same size as our existing filter range enabling our customers to change from a standard to a high performing product without making any mechanical changes. We have improved the performance of medical grade filters without Y capacitors and employed a new plastic magnetic core which fulfils the air isolation and creepage requirements for the medical market. Our range of filtered sockets now includes the general purpose FN 9222, high performance FN 9233, and the new very high performance FN 9244 where the main performance improvement is at low frequencies between 150 kHz and 10 MHz. In addition we have added the FN 9244E version which has an integrated earth line choke.
Typical specifications include, maximum continuous operating voltage 250VAC @ 50/60Hz, operating frequency dc to 400Hz, protection category IP40 according to IEC 60529, temperature range (operation and storage) -25°C to +85°C, design corresponding to UL 1283, CSA 22.2 No. 8 1986, IEC/EN 60939 and  MTBF @ 40°C/230V (Mil-HB-217F) 2,230,000 hours.
The complete range of new FN 9244 Medical IEC mains inlet filters are available direct from Schaffner and a number of global distribution sources. Typical applications include electrical and electronic equipment, Consumer goods, household equipment, test and measurement equipment, power supplies, medical equipment, electronic data processing equipment.
Enquiry Form: http://www.epreston.co.uk/enquiries.php
Home Page: http://www.epreston.co.uk/epblog/